Golden Retriever/Poodle Hybrid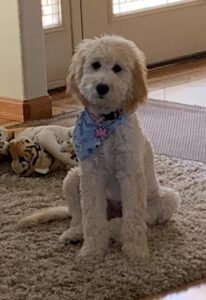 The Goldendoodle is a cross between a Golden Retriever and a Poodle. Poodle crossbreeds are meant to produce a dog with mixed traits and the Poodle's signature nonshedding coat. Like other 'designer breeds', the Goldendoodle has seen a recent surge in popularity. Some breeders produce Goldendoodles by crossing a purebred Poodle with a purebred Golden Retriever (called a first-generation cross), but others allow crossing Goldendoodles with a Poodles(called a backcross).
Goldendoodles are highly intelligent and loyal companions, their affectionate and gentle nature makes them some of the finest therapy dogs. They are also known for their ease of training. Many of our clients report their Doodle was potty trained and learned basic commands in just a few days of arriving home.
This hybrid dog is recognized by Continental Kennel Club.
Come meet these beautiful Goldendoodles. We are a local Colorado Goldendoodle breeder.
---
No Puppies Currently Available
---
How To Reserve Your Puppy
You can reserve your puppy by putting a deposit down when the puppies are 1-2 weeks old, please contact me prior to sending a deposit. Deposits ($300) are required to reserve a puppy for you. A puppy that shows pending has a deposit pending and will be held that way for up to 5 days. If a deposit is not received after 5 days the puppy becomes available again. A puppy that shows reserved a deposit has been received (however I generally remove that puppy from the website to avoid confusion). If there are multiple puppies that look similar in color, I generally do reservations by 1st pick male, 1st pick female, 2d pick male, 2d pick female etc. Then you will choose your puppy at the 6 week old puppy visits. If you have 1st pick you will have an early appointment time for the 6 week visit as puppy selections have to go in order so plan accordingly if you have a distance to travel.