Shih-tzu / Poodle hybrid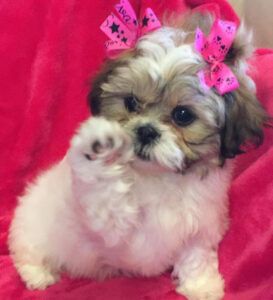 These non-shedding hypoallergenic breeds are very good with other dogs and they definitely love their family. These pups are friendly, self-confident, loyal, energetic, brave, intelligent, and playful. They are also great with kids.
This hybrid dog is recognized by Continental Kennel Club.
My small breed and designer pups are non-shedding with wonderful personalities. They average between 6-12 lbs. when full grown but occasionally have larger pups and smaller pups. The smaller ones are kept a little longer.
---
---
How To Reserve Your Puppy
You can reserve your puppy by putting a deposit down when the puppies are 1-2 weeks old, please contact me prior to sending a deposit. Deposits ($300) are required to reserve a puppy for you. A puppy that shows pending has a deposit pending and will be held that way for up to 5 days. If a deposit is not received after 5 days the puppy becomes available again. A puppy that shows reserved a deposit has been received (however I generally remove that puppy from the website to avoid confusion). If there are multiple puppies that look similar in color, I generally do reservations by 1st pick male, 1st pick female, 2d pick male, 2d pick female etc. Then you will choose your puppy at the 6 week old puppy visits. If you have 1st pick you will have an early appointment time for the 6 week visit as puppy selections have to go in order so plan accordingly if you have a distance to travel.