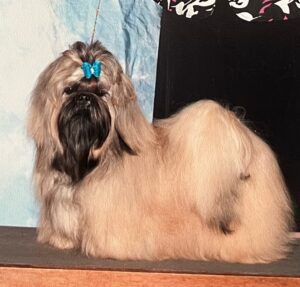 Shih Tzu are known as smart dogs who do not shed their fur. They are sturdy little dogs with short muzzles and large dark eyes. With a soft and long double coat, it stands no more than 26.7 cm (101⁄2 in.) at the withers and with an ideal weight of 4.5 to 7.3 kg (10 to 16 lbs).
Drop ears are covered with long fur, and the heavily furred tail is carried curled over the back. The coat may be of any color, though white and blazes of grey are frequently seen. The Shih Tzu is slightly longer than tall, and bigger dogs ideally should carry themselves with the distinctly arrogant carriage.
Although a Shih Tzu's temperament varies from dog to dog, the breed has a personality and temperament that is loyal, affectionate, outgoing, and alert. Training and proper socializing must start at a young age for the Shih Tzu to obey basic commands. The Shih Tzu prefers to be close to its companions and will often offer strangers its affection. Because of its friendly nature, the Shih Tzu tends to interact well with other dogs and with children and adults. Shih Tzu's make excellent house pets especially if one lives in an apartment or does not have a large yard as they require minimal exercise. Overall, they are friendly and outgoing companions.
---
No Puppies Currently Available
---
How To Reserve Your Puppy
You can reserve your puppy by putting a deposit down when the puppies are 1-2 weeks old, please contact me prior to sending a deposit. Deposits ($300) are required to reserve a puppy for you. A puppy that shows pending has a deposit pending and will be held that way for up to 5 days. If a deposit is not received after 5 days the puppy becomes available again. A puppy that shows reserved a deposit has been received (however I generally remove that puppy from the website to avoid confusion). If there are multiple puppies that look similar in color, I generally do reservations by 1st pick male, 1st pick female, 2d pick male, 2d pick female etc. Then you will choose your puppy at the 6 week old puppy visits. If you have 1st pick you will have an early appointment time for the 6 week visit as puppy selections have to go in order so plan accordingly if you have a distance to travel.